Any or all of the following items will be gladly sent to you without charge as our way of saying thank you for visiting our website. Again, we invite you to worship with us as opportunity presents itself, and please know that upon your visit, you will be an honored guest. Just let us know what you would like in the "Contact Us" section.
May we, free of charge and as a gift to you, offer you a DVD entitled, Searching for Truth. On this DVD, you will have the opportunity to learn more about the topics of: The Truth About the Creator, The Truth About Authority, The Truth About the Church, The Truth About the House of God, and The Truth About Baptism. Other titles available, again free of charge, are: The Truth About Worship, Evil, Pain and Suffering, Why Are There So Many Churches?, God's Kingdom, The Truth About Moral Issues, Is the Bible From God?, The Truth Be Told About Evolution, and Faith For Life.
Please allow us to serve you by sending you one or even all of these timely and Biblical DVDS.
Some Prayerful Thoughts is a devotional book which challenges us to remember that when the struggles of life, the doubts of the day, and the unanswered "whys" of trial seek to overwhelm us, there is One to whom we can turn in order to gain peace and understanding. Prayer can point a wearied soul to the throne of God from which the Almighty reigns with love and a desire to answer our petitions. It likewise can help us realize that we don't have to face a trial alone, and it enables us to believe that we can triumph over all the hardships which vex the mind, soul, and body.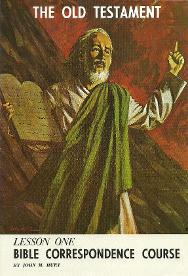 May we offer you a free Bible Correspondence Course? This allows you to study the Bible in the privacy of your own home and at your own pace. While this is a self-study, we will be available to answer any questions you may have about your lessons and will gladly come to your home, reply by e-mail, or phone to assist you in this spiritual journey No one will visit unless you specifically request it. As you complete one lesson, the next will be sent to you by mail.
Also, for free access to an assortment of biblical materials, please visit www.biblecharts.org created by Dr. Donnie Barnes.